Educational Programs for All Ages​
Resources for Parents and Families
Monday-Friday 7 AM - 5 pm at Osprey Wilds
Osprey Wilds is offering a new Academic Support Center for students in grades 6th – 12th. If your students are attending school virtually or through a hybrid model, we're here to help. Students can be dropped off at Osprey Wilds Monday-Friday beginning January 4. They will have access to their own workspace to attend virtual classes, complete schoolwork, and interact with their peers safely. Our academic coaches will be there for homework help and to lead small activities throughout the day. Students should bring their class schedule, homework, laptop, and anything else needed for their classes. 
Our academic support center offers a flexible schedule for families.  Students can be dropped off in the morning from 7 am – 8 am and picked up from 3 pm – 5 pm. From 3 pm – 5 pm, students will have the opportunity to work on homework and participate in our afterschool activities at no additional cost.  
The cost per student is $20/day and includes Wi-Fi, a quiet and safe workspace, support from our academic coaches, and additional activities. For an additional $5/day you can sign up for our meal program which includes a cold breakfast, hot lunch, and afternoon snack.
Questions? Please email us at info@ospreywilds.org 
Monday-Friday
3 pm - 5 pm
After School Programming at
Osprey Wilds
Beginning January 4, and in conjunction with our recently launched Academic Support Center, Osprey Wilds will also be offering after-school programs on-site. Join our education staff for fun activities. All ages are welcome. Cost is $10/person and includes an afternoon snack.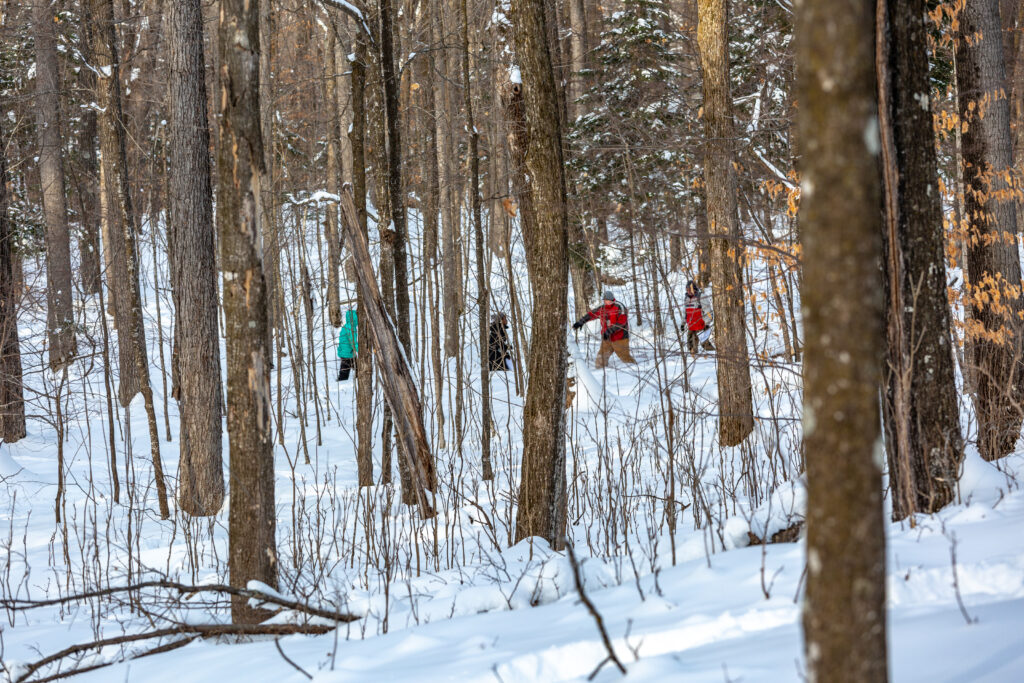 Monday-Friday
3:30 pm - 4:30 pm
Virtual After School Programming
Beginning January 11, Osprey Wilds is offering virtual after-school programs for students of all ages.  Our staff will be leading programs that range from theater, crafts, exploring nature, and more. Click on the boxes below to learn more about each program. 
Monday: Nature Journaling
Course Description: What does it mean to really see an object in nature? Train your eye to notice things differently as you recreate the natural world on your pages. Participants will learn how to make observations, set goals, look closer, record information for later use, and how to make their nature journal their own.
Materials: Journal, pencil/pen, colored pencils, place to go outside, magnifying glass (optional), camera (optional)
Suggested age: 8 years old - 18 years old recommended
Tuesday: Creating Fiction from the Wonderful Outdoors
Course Description: Participants will get a chance to explore nature by learning how to write creatively. Every week they will create short stories, poems, fictional blurbs, and more to get the creative juices flowing.
Needed Materials: Journal, pen/pencil, camera (optional), your imagination
Recommended age: 11 years old and up
Tuesday: Becoming an Outdoor Explorer!
Course Description: Are you looking to get out of the house? But not entirely comfortable with the prep? Let's talk about what you need to be comfortable in the wilderness, maybe with a little history thrown in. We might as well do some fun things while we're at it!
Needed Materials: None
Recommended Age: 11 years old and up
Course Description: Students will get the opportunity to think creatively and to make projects with different guest teachers each week. These projects may require additional materials to actively participate, but all are welcome to watch and practice on their own time. At the end of the class, we will have a virtual show and tell where students can show off their projects! No previous experience necessary; we invite people of all skill levels to participate, learn, and grow!
Recommended Age: 8 years old and up
Needed Materials: 
Week 1: Make your own comic with Rock!

Materials Required: Paper and a Writing Utensil

Week 2: Weave yourself a Tree of Life with Ashley

Materials Required: 1 Willow Branch or a pre-made hoop, at least 1 skein of yarn, other things to decorate with, scissors 

Week 3: Paracord Art with Katrina!

Materials Required: Paracord or similar material

Week 4: Raptors by Family program
Week 5: Learn to Crochet with Allie!

Material Required: Red Heart yarn, 5mm (H-8) crochet hook

Week 6: Show and Tell

Required Materials: Any creative project you've worked on!
Wednesday: Story Crafting
Course Description: Learn different forms of story-based writing through investigation and observation, a range of content about the world around us, and learner-led creativity. Topics include astronomy and mythology, history and journalism, animal signs, folklore, and analysis of arguments. 
Recommended age: 10 years old ad up 
Thursday: Secret of the Lost King's Tomb: A Role-Playing Game
Course Description: Embark on an epic adventure with other kids in an easy to learn role-playing game. As a team, they will work together to overcome countless challenges as they uncover the secrets of the Lost King's Tomb. Success depends on their cooperation, creative thinking, and the ability to overcome obstacles in the face of unknown dangers. This is a great opportunity for kids to practice working in group settings, developing your voice as a leader and as a team member, and to challenge yourself in a low-risk high-fun environment. No experience necessary, just two six-sided dice, some paper, and a writing utensil!
Materials Needed: Six-sided dice, paper, writing utensil
Recommended age: 8-12 years old 
Thursday: Local Wildlife Adventures
Course Description: Ever wonder about the animals in your neighborhood that you see or hear all the time? Would you like to know more about how to determine the animals that have been wandering around their house and what they are doing? Learn about Minnesota wildlife, biomes, animal tracking, and more. Meet different Osprey Wilds Animal Ambassadors throughout the course.
Needed Materials: Journal (optional)
Recommended age:  8 years old and up
Course Description: Each week will be spent creating and rehearsing, with the final week being a live performance. Participants will gain skills in public speaking and self-expression, be able to create and share original content, and participate in a cumulative group production of a short play. 
Needed Materials: None
Recommended age: any! 
Learning experiences for families
Share the wonders of nature with your whole family at one of our community programs. Check below for events great for all ages! 
Explore the joys of winter as a family during our overnight camp in February. Stay in our modern lodging. Eat at our delicious dining hall that features local ingredients from our sustainable farm, and learn as a family from our skilled educators. Activities are tentative on seasonal conditions and have included snowshoeing, cross-country skiing, kick-sledding, high ropes, indoor rock climbing, ice climbing, ice fishing, and more! Please check our event calendar for event registration. 
Every March as temperatures begin to rise, Osprey Wilds hosts an event featuring our very own maple syrup. We host interactive tours that teach people how to identify maple trees, how to tap trees and collect their sap, and how sap becomes syrup. Tours conclude with a freshly made pancake meal where visitors can taste our award winning syrup. Join us next March for Maple Syrup Day!
Welcome spring to Minnesota by joining in our annual Nature Egg Hunt! Every spring, we host a family-friendly event that highlights local bird species and habitat as we guide groups on a short walk around our campus. During the walk, groups hunt for the "eggs" of birds seen in Minnesota. Everyone finds eggs, and everyone learns something new!
WILD (Wellness, Interests, and Lifelong Discovery) Workshops
Each month, a community member will offer a class that takes place on our campus in Sandstone, MN. These classes cover a variety of natural topics, and work to bring new skills to the broader community. These classes are created for adults, but younger students (16+) with parental supervision are welcome to join. Lunch is often provided. Join us for one of our many WILD workshops and learn more about the natural world around you!
Upcoming Community Programs
year-round learning experiences
Lifelong learners can enjoy a variety of educational programs focused on a diverse range of topics. Check below for upcoming programs and dates.
Renew, Relax, Rediscover. Osprey Wilds' beautifully varied landscapes provide the perfect setting for this all-inclusive holistic adventure. Spend this weekend with your friends or take the opportunity to get away by yourself, meet new people, and learn new skills. Choose from a variety of physical, mental, and spiritual activities, book a massage or energy healing session, or just relax and take in nature
From fall through spring, we offer a number of Dinners at the Lake (usually on Saturday) – start out with wine and appetizers, then enjoy a wonderful banquet meal served in our beautiful lakeside dining hall, followed by an interesting nature-focused keynote presentation
Founded as Elderhostel in the summer of 1975, Road Scholar® began as a learning program conceived to combine not-for-credit classes with inexpensive lodging for adults ages 50+. They are a diverse community of knowledge seekers and explorers, united in the belief that lifelong learning is a vital part of overall wellbeing. Throughout the year, Osprey Wilds holds several Road Scholar learning adventures.  
Hamline University EE Courses
Our unique location in east central Minnesota offers a wonderfully diverse area to learn about the environment, and our comfortable accommodations make the experience even more enjoyable. Lifelong learners can enroll, on an audit basis, in our various Hamline University courses (Graduate Professional Development Program – Continuing Studies).
undergraduate, graduate, and teacher training
A wide range of undergraduate, graduate, and teacher training opportunities are offered at Osprey Wilds. We also serve as a field campus for many teacher training opportunities through Hamline University's Center for Global Environmental Education and offer graduate courses tailored to educators seeking either a Certificate or Master's Degree in Environmental Education. 
January Interim: Wolves & Northwoods Carnivores – Predator Ecology
The grey wolf has long excited the human imagination. Minnesota, with approximately 2200 wolves, is home to the largest and only continuous population of wolves in the lower 48 states. It is a center for wolf research. During this course, we work on two wolf projects: one to determine pack numbers, territories, and behavior through tracking surveys near Ely, MN. The second, to determine wolf pack size, territory, and the impacts of prey species on the historic Jonvick Deer Yard along the North Shore of Lake Superior (Lutsen, MN). We also collect data on Canada lynx in the area in cooperation with the Superior National Forest.
Hamline University EE Courses ​
Our unique location in east central Minnesota offers a wonderfully diverse area to learn about the environment, and our comfortable accommodations make the experience even more enjoyable. Throughout the year, we offer a number of Hamline University environmental educations courses through their Graduate Professional Development Program (Continuing Studies).
Upcoming College Programs