Experience the great outdoors and make memories that last a lifetime!
Experience the great outdoors and make memories that last a lifetime!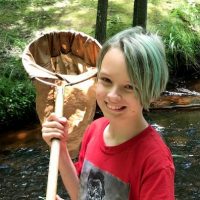 For kids entering Grades 5-7
Unleash the explorer in you! Spend a summer week roaming our forests and learn how to build fires, shoot a bow, and make a survival shelter; then find your way home using only a compass. Challenge yourself on our rock wall and high ropes course, and then relax by swimming, fishing and canoeing on beautiful Grindstone Lake. It will be a week of new adventures and excitement in the great outdoors!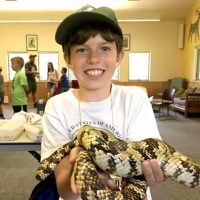 For kids entering Grades 4-6
Spend a wild week learning about caring for rehabilitated animals and exploring the lives of animals in the wild.  Get up close and personal with the animals at Osprey Wilds and take animal-focused field trips to zoos, aquariums, and more! You can also traverse our high ropes course, try your hand at catching fish, and have time to cool off in Grindstone Lake during this animal-packed adventure.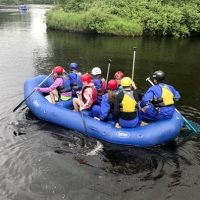 For kids entering Grades 6-8
Are you ready for a full week of adventure and adrenaline? Experience all the thrills of white water rafting, canoeing, rock climbing, high ropes and more at our beautiful, 780-acre campus. For extra thrills, we will take field trips to parks and rivers near Sandstone as well as to great outdoor destinations in the North Woods. This overnight summer camp is guaranteed to appeal to the adventurer in you!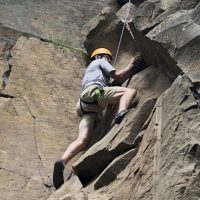 Northwoods Minnesota With Your Grandchild
Designed for grandparents with the grandchildren ages 12-15 years old.
Hold on to your helmets! At this intergenerational Road Scholar camp, you and your grandchild will experience exciting outdoor adventures sports including white water rafting, archery, rock climbing and a ropes challenge course are just a taste of your outdoor fun. You will also learn about birds of prey with our expert instructors and get up close with snakes, frogs and porcupines!