Osprey Wilds School Programming
Scholarships are available!
Options for K-12 Schools for the 2020-21 School Year
Virtual, In-Person & Field Trips
Osprey Wilds has adapted our learning structure to fit the dynamic needs of our students and teachers during the 2020-2021 school year. We are currently offering virtual programming, on-site programming where our environmental educators will visit your school, and field trips on our campus. We have updated our class formats and procedures to follow all CDC guidelines to ensure the safety of our students, teachers, and staff. If you would like to book any of these programs, our Reservations Coordinator and Education Director will go over our COVID-19 Preparedness Plan with you in detail prior to booking your dates. 
If you have questions, please contact us at Schools@ospreywilds.org
To learn more about our virtual classes, on-site visits to your school, field trips, availability, pricing & scholarships please: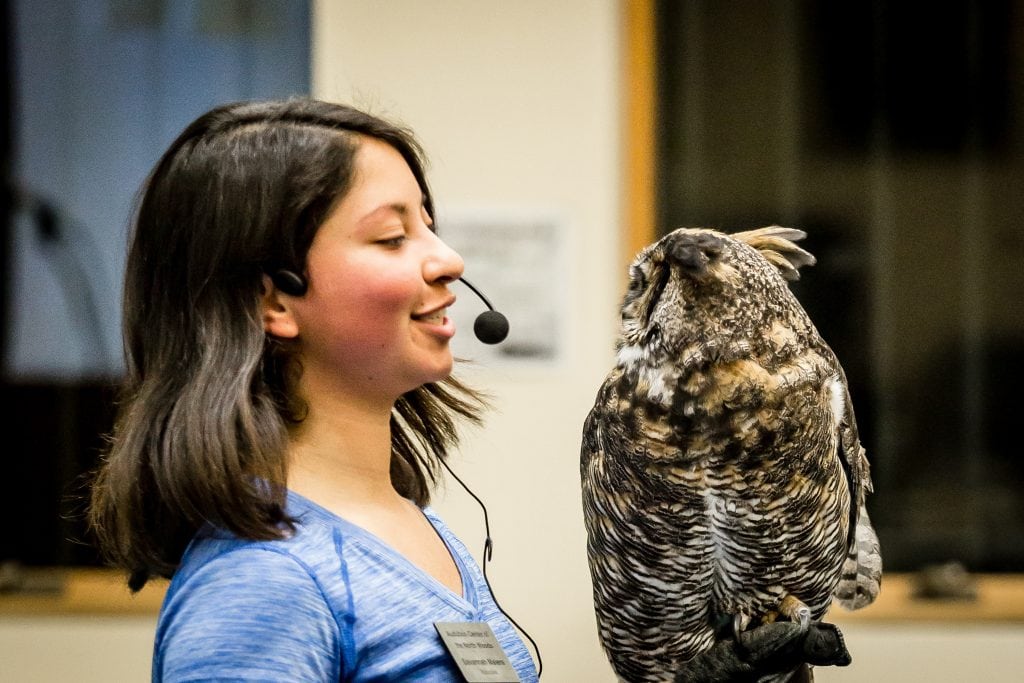 Is your school doing Hybrid Model or In-person Instruction? Our staff can safely bring outdoor learning to your students at your school, without the added risk of a student field trip.
Outdoor Science Courses: Our instructors will lead your students through outdoor classes on wildlife, ecology, and environmental science. Select from specialized classes such as Animal Signs and Forest Explorers that are designed to be done on school grounds and can be adjusted to fit your existing class schedule. Contact us for a complete course offering list.
Live Animal Programming: Book a 1-hour experience, or even up to a full day of educational programming with our live animal ambassadors. Choose from a variety of programs for all age groups.
Is your school in distance learning or a hybrid model? Let us help you engage students and meet science standards with digital lessons taught by our team of educators.
Full-Day or Multi-Day Virtual Experience: Let our team of instructors lead your students through a combination of live, pre-recorded, and self-directed lessons about wildlife, ecology, STEM, and more! Select from themed packages to give your students a fun and cohesive experience. Timing can be flexible to meet your scheduling needs.
Live Animal Programming: 30 minutes to 1-hour virtual experience with live animals. Our programs cover key environmental science principles, and students can submit questions and receive answers in real time.
Lesson Packs: Get a set of Outdoor Science lessons you can teach on your own! This includes video content, digital documents, and lesson plans designed or reviewed by a licensed teacher. 
We specialize in overnight and one-day experiences for K-12 youth. To ensure the safety and wellbeing of our students and staff, we are asking student groups to adhere to certain requirements, listed below.
If your student group meets these requirements, you may contact our reservations coordinator to book your dates. NOTE: Some class offerings will be limited due to COVID-19 restrictions. We appreciate your understanding.
Day Trips:
For school groups of up to 40 students that can do In-Person learning under MDE recommendations

Experience two of our outdoor Science classes and have a picnic lunch on the grounds. Our kitchen can safely prepare individualized bag lunches, or schools can bring their own.

Learn outdoors safely with our well-trained and conscientious staff!
Overnight Visits:
For school groups of up to 28 people (students and teachers/adult chaperones), that can do In-Person learning under MDE recommendations

Experience a multi-day trip in an intimate setting. Students will sleep 2 to a room with their own sinks/handwashing stations and sleeping areas more than 6 feet apart. 

Our kitchen will safely prepare individual meals for each participant in our socially-distanced dining hall. 

Learn outdoors safely with our well-trained and conscientious staff!
Already have a reservation?
Visit our Planning Your Trip page for details on planning your trip to Osprey Wilds or
Download our K-12 Trip Planner for a comprehensive documentent about planning a trip to Osprey Wilds, including a listing of class options, pricing, logistics, forms, etc.
Any size group ◆ any length visit ◆ outreach options
Other Options for K-12 Youth
With a one-day school program package, you select the classes of your choice all morning and/or afternoon, with lunch in between. Bring your own bag lunch or enjoy a delicious meal prepared by our kitchen staff. Any of our programs and classes are available on an "a la carte" basis.
Submit a booking inquiry form or email us to get started or check available dates.
Homeschool camps are periodically offered to extend our quality formal school programming to the homeschool community. Through class options focused on ecology, wildlife, adventure, or cultural and natural history, your students will discover new ways to connect with the natural world.
Check our Program Calendar for upcoming Homeschool camps or email for more info.
Live animals have the ability to engage an audience and inspire a concern for wildlife and our environment. We offer a variety of wildlife program topics that come to your school or site. Our programs cover a range of topics and we use a variety of education animals including: salamander, frogs, toad, turtles, snakes, rabbit, raptors, and porcupine.