Wildlife Outreach Programs
Live animals have the ability to engage an audience and inspire a concern for wildlife and our environment.
Our outreach programs come to your site!
You can choose from variety of wildlife programs with members of our 'Wild Staff'. Our programs cover a range of topics and we present to audiences of all ages.
Variety of education animals including: salamander, frogs, toad, turtles, snakes, rabbit, raptors, and porcupine.

Within 90 miles of Duluth, St. Cloud, Twin Cities

Abundant props and audience participation add to the fun of learning

Presented by our skilled wildlife education staff

Competitively priced, no weekend surcharges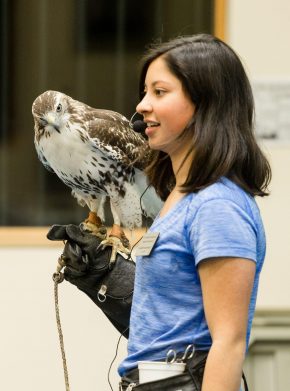 Raptors Through Stories
Suggested for all ages; 45-60 Minute program
Students will get their first experience with birds of prey by reading children's books about birds of prey, then meeting 2-3 live raptors.  Students will have the opportunity to touch and feel wings and feet from real birds of prey.
*************************
Raptors By Family
Suggested for 3rd Grade-Adult; 1 hour program
All birds of prey have certain characteristics in common, but each group (falcons, owls, hawks and eagles) have adaptations that make them unique.  Students will explore these unique adaptations through games and by meeting 3 live raptors.
*************************
Silent Hunters
Suggested ages 3rd Grade-Adult; 1 hour program
Owls that spend the winter in Minnesota face a unique set of challenges.  Meet 1-2 live owls as we explore what challenges owls face and what adaptations they have to overcome to be successful hunters year round in Minnesota.
*************************
Falconry
Suggested for 3rd Grade-Adult; 1 hour program.
Humans have been living with and hunting with birds of prey for 4000 years.  Explore how this relationship has changed and stayed the same with lots of student interaction and meeting two live raptors.
*************************
Northwoods Niche
Suggested ages 4th Grade-Adult; 1 hour program.

Every animal has a role to fill in the environment.  Meet 4 live animals as we travel through the different levels of the deciduous forest and find out who lives here and what tools they have to do their job.
*************************
Wolves of the North Woods
Suggested ages 4th Grade-Adult; 1 hour program.
Wolves live a fine line between life and death; their survival is determined by their abilities and behaviors. Step into a wolf biologist's role to learn more about wolf pack structure, behavior and adaptations using scientific tools and methods, such as radio telemetry.
*************************
Leap, Creep and Slither
Suggested ages 2nd-6th Grade; 1 hour program.

From water, to land, to trees, reptiles and amphibians have special abilities that help them survive.  Meet live reptiles and amphibians that live in Minnesota as they teach us how they survive.
*************************
Porcupine Quillwork Embroidery
Suggested ages 4th Grade-Adult; 2 hour program.

Students will meet a live porcupine while learning about their natural history.  Students will create a quilled design on a birch bark medallion to take home after observing a demonstration of quill embroidery technique. Two hour program, due to materials and hands on nature of the program it is limited to 35 participants, recommended for ages 9 to adult.  Program fee $350
*************************
Fill the Bill
Suggested ages 4th Grade-Adult; 1 hour 'add-on' program.

Use different tools to feed on various food sources.   Compare tools to different beak shapes and how different bird species become specialists in a particular type of food.  Informal program, come and go program for participants.  Must be booked in addition to a full price wildlife program, can be added to a booth event as well.  $75/hr or $125/with a booth event.
Large Group/Assembly Programs 
1st 1-hr Program:  $300




1st Additional Program:  $150 (same day, same animal)




subsequent programs $100 (same day, same animal)




All Day Event:  $595




Mileage:  standard federal mileage rate applies for programs over 75 miles round-trip from Osprey Wilds
Porcupine Quillwork Embroidery Program
2-hr Program:  $350
Mileage:  we charge the standard federal mileage rate for programs over 75 miles round-trip from Osprey Wilds
NOTE: there may be an additional fee for programs outside of Minnesota due to additional permit fees.
To book one of our outreach programs for your group or organization: