Create a Lasting Legacy with Planned Giving
Planned giving is a valuable tool that allows you to support our important work for many years to come while also fulfilling your own financial goals and objectives. Your planned gift will continue to provide for the environmental education of literally thousands of people of all ages, helping them learn how they can care for and protect the environment today and for future generations. Planned giving encompasses  a variety of options—bequests, trusts, annuities, beneficiary designations and more—all of which could provide tax or income benefits for you or your heirs. Learn how your planned gift could make a significant impact and leave a legacy that will truly make a difference.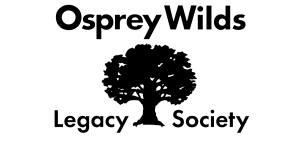 The Osprey Wilds Legacy Society was established to recognize generous individuals who have supported or intend to support us with a planned gift. When you become a member of the Osprey Wilds Legacy Society you ensure that your commitment to building environmental stewards becomes part of your personal legacy. Friends of Osprey Wilds will know you were here and that you cared. You will have the comfort of knowing you left this world a better place than you found it. That is a true legacy.
Osprey Wilds Legacy Society Members

Anonymous
Ruth Allaman
Don & Meg Arnosti
Kathy Aust
Robert Boelter
Crystal Clift
Harriet Crosby
Mike & Deb Curran
Jim DeYoung
Frances Duritsa
Lily Beth Frentz
Richard & Connie Glattly
Paulette Y. Huddle
Don Janes & Marilyn Thompson
Sylvia Marcotte
Richard & Joan Newmark
Lois Norrgard
Jim & Wilda Obey
Sam & Diana Rankin
Jean Roberts
Ruth Roberts
Marguerite Schwyzer
Judith & Steve Seidmeyer
Don & Barbara Shelby
Jane Spence
Lydia Steensen
Jack Telfer
Ruby & Roger Trapp
Mary Ellen Vetter
Osprey Wilds is very grateful for your interest in considering a gift in perpetuity. 
For more information about becoming a Legacy Society Member or including Osprey Wilds in your will, please call 320-245-2648 or email development@ospreywilds.org.