Weddings & Special Events
Location
Our site is nestled on the shore of Grindstone Lake in east-central Minnesota. Only 90 minutes from the Twin Cities, our property offers the beauty of up north—pine forests, quiet shorelines, blooming native prairies, and wildlife—without the intense travel and odious planning, scheduling, and overall headache that comes with a "destination" wedding.
Whether you are watching the sunset by the water, breathing the fresh pine air or celebrating around a campfire—your time can be spent with loved ones, peacefully, and without the distraction of everyday bustle.
Don't compromise. Our venue offers a stunning outdoor setting, while also having lodging for 106 guests, kitchen services, wireless internet, and is easily accessible from the Twin Cities, Duluth and St. Cloud.
Venue
Our property is 780-acres and has several different options that can suit your party's needs. From the groom's dinner to reception, wedding, and time together, we have space. 
Outdoor ceremony area
There is something magical about an outdoor wedding. Host your wedding, reception, or both in the great outdoors. Depending on the size of your event, we have several options. We are flexible and happy to help you find your special spot on our property.
Indoor ceremony area
If you decide to host your ceremony indoors, we have a beautiful dining hall that has a stunning view of the lake, plenty of natural light and windows so you can enjoy the allure of outdoors with the comforts of the indoors. Enjoy the majestic, floor-to-ceiling stone fireplace—a romantic focal point that is the perfect place to toast a new couple.
Our dining hall has outdoor patio seating along the outside of the building. We also have an outdoor space in front of the hall that is perfect for cocktail hour.
If you want to have an indoor reception and outdoor wedding, we can do that! Our team can walk you through the options and recommendations.
Parking
There will be plenty of accessible parking in our private parking lot located onsite. All parking is free for guests.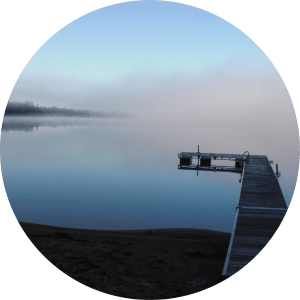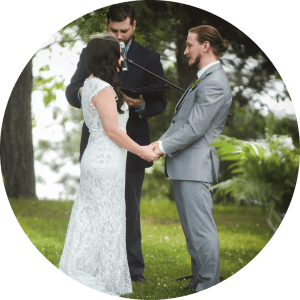 Located next to each other, these lodges are the perfect places to get ready for the big day, host intimate gatherings, or spend some downtime with loved ones. 
Schwyzer Lodge: This large historic lodge is situated on the shores of Grindstone Lake. It has plenty of space for your family or bridal party with five bedrooms, three bathrooms, a kitchen, a dining room, a spacious living room with a fireplace, and a beautiful three-season porch facing the lake. Schwyzer Lodge can accommodate 22 adults.
Schwyzer Log Cabin: For an additional charge, this cabin can be rented when renting Schwyzer Lodge or Lowry Lodge. This 100-year old charming log cabin is nestled under white pines and provides a secluded lodging space for the wedding couple. This cabin is equipped with a queen bed, wood stove, electric furnace, and a screened-in porch, where you can watch the sunset from the swinging bench. 
Lowry Lodge: This split level lodge is next to Schwyzer Lodge and has five bedrooms, two shared bathrooms, a full kitchen, a small lounge area, and a multifunctioning classroom space. 
Don't worry about finding hotels and accommodations for your guests. We have space for everyone on our property.
Osprey Wilds has comfortable and accessible accommodations for 106 guests with additional room in our rustic and cozy cabin, yurt, or primitive campground. All are ready for a group celebration or intimate moment. Learn more about our lodging options here.
Catering | FAQs | Contact Us & More
Catering | Local, Seasonal, Organic
We will work with you to pick a perfect menu that is not only delicious but fits your needs and budgets. Our in-house chefs specialize in healthy, sustainable, and delicious cooking, and you will be able to have a custom consultation with our chef to find your menu. We are happy to accommodate dietary restrictions. Learn more about our dining services here.
Frequently Asked Questions
Can I rent the entire venue?
Yes, you can rent the entire venue. This includes the dining hall, all of our meeting spaces, lodging accommodations, and outdoor space. It is a cost-effective way to reserve your wedding, reception, and lodging for your guests all at once.
If you are renting the entire venue, we require a one-night minimum (November – April) and two-night minimum during our peak season (May – October).
---
Where will my guests stay?
Don't worry about finding nearby accommodations for your guests. We have space for 106 guests to stay on our property in modern facilities. If you have family and friends that enjoy the outdoors as much as we do, we have additional space in our rustic wetlands cabin, yurt, and campground.
---
Can I use my own vendors?
We do not allow outside catering or potlucks, but you are welcome to bring in your own dessert or appetizers/snacks. We can also provide these through our food service.
You can use an outside bar service to serve beer, wine, malt beverages, and non-alcoholic beverages. No hard alcohol is allowed. Osprey Wilds Environmental Learning Center must be listed as the insured party on your insurance policy and a copy of that provided a month ahead. A peace officer (someone who works in law enforcement, such as police, sheriff, and state patrol) must be present during the alcohol-serving period.
---
Can I bring my own alcohol?
You are allowed to provide beer, wine, and malt beverages. A liquor license is required if you or an outside vendor is serving alcohol. Osprey Wilds Environmental Learning Center must be listed as the insured party and a peace officer must be present during the serving period.
---
Can your catering services accommodate vegan, vegetarian, and other dietary restrictions?
Yes, we are happy to accommodate dietary restrictions and preferences. A minimum of two-week notice is required for all kitchen services and catering.
Pricing and Contact Information
For more details about specific pricing, please download our
  2020-2021 Banquet and Wedding Pricing form. 
We are ready to help you plan the perfect day or weekend at Osprey Wilds. 
Please contact us at reservations@ospreywilds.org for availability, tours, and any additional information! 

Accessibility &
Sustainability
Part of our vision as an organization is to demonstrate respect, care and passion for the earth, all people and all living things. We make it easy for you to reduce your impact while having a perfect event.
Renewable Energy | 100% of our electricity comes from zero-carbon energy sources. Additionally, we use solar, wind, and geothermal to supplement our energy use and mitigate our dependency on fossil fuels. We've intentionally upgraded our systems to be energy efficient and sustainable. Read our full Energy Conservation Report to learn more about our progress. 
Local and sustainable agriculture | Our in-house chef and kitchen staff focus their meals around sustainable and seasonal food. We use locally & regionally sourced foods when seasonally available. We use organic, non-GMO and natural food as much as possible.
Low waste | When possible, we use low-waste practices, including recycling, composting, and using renewable containers.

Gear Rentals &
Group Activities
One of the best parts about Osprey Wilds is that we are an environmental learning center. With this comes activities that your wedding party won't find anywhere else:
9+ miles of hiking trails
Equipment rentals: canoes, skis, volleyballs and more
High Ropes Course
Fishing
Climbing Wall
Archery Range
Naturalist Programs
Wildlife & Informative Presentations