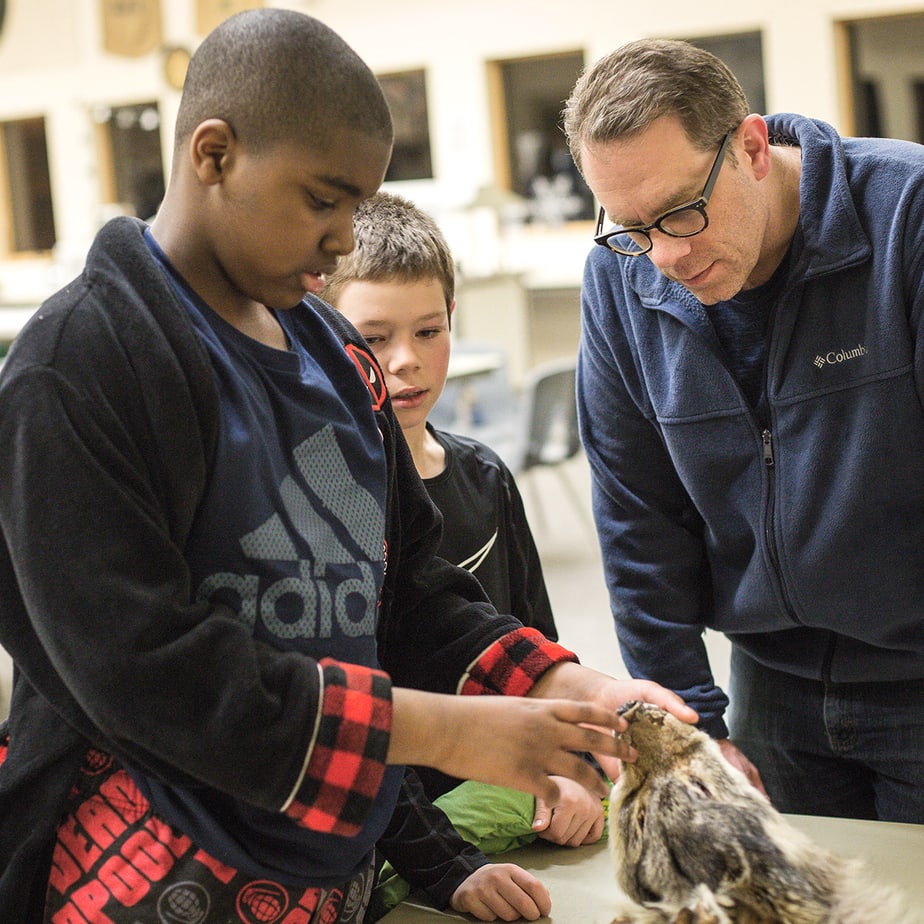 K12 School & Youth Programs
Immerse your senses in outdoor learning at Osprey Wilds
Experiential learning, human connection, and student-centered instruction are the foundations of the accredited, multi-disciplinary environmental education program offered by Osprey Wilds.
Thousands of kindergarten through high school students enjoy 1-5 day stays across all four seasons, exploring the trails, prairies, waters, woods, and wildlife of our naturally diverse and easily accessible campus.
"Great opportunity for kids to experience the 'great outdoors' in a safe, nurturing environment. Program encourages team-building and fosters an awareness of the world around us."
Environmental & Nature Education at Osprey Wilds
Osprey Wilds accommodates K-12 learning objectives for public, private, charter, Montessori, and homeschool programs. Classes are designed to go beyond simply educating learners by guiding them to develop a rich sense of wonder and increased curiosity about the natural world.
— Hands-on experiential learning —
— Alignment with MN Academic Standards —
— Multi-disciplinary K-12 courses —
— S.T.E.M. focused options —
Osprey Wilds is accredited by the North Central Association Commission on Accreditation and School Improvement (NCA CASI) and offers environmental and outdoor educational experiences to schools, homeschool and youth groups. 
Our diverse sanctuary, over 50 years of experience, a staff that includes highly trained staff and naturalist interns, comfortable dormitories and wonderful meal service make a field trip to Osprey Wilds one of the best nature learning experiences you can get!
Some highlights of our program:
Sustainable, scratch-made

meal service

with a focus on local and seasonal foods
Dozens of class choices – all aligned with MN Academic Standards

Full array of adventure and challenge programming, including canoeing, cross-country skiing, high and low ropes courses and a climbing wall

Modern

dorm facilities

with bathrooms in each room

A wildlife barn with non-releasable wildlife available for viewing and programs

Evening programs included in every package

Dedicated, professional, diverse and fun staff

Central Minnesota

location

– only 90 miles from the Twin Cities and 70 miles from St. Cloud and Duluth

Teacher recruitment bonus

All buildings handicapped-accessible

Scholarships may be available
Aside from fostering connections to the environment, your experience will emphasize peer connections, interpersonal communications, and a strong sense of community.
A Location Unlike Any Other
Our location in east central MN provides a unique opportunity for students to discover a variety of MN ecosystems and landscapes. Hardwoods and conifer forests intersect with prairies and wetlands, creating a rich and diverse environment for students to explore.
Not Too Big, Not Too Small
With a capacity of 162 participants, we are better able to offer individualized attention to your students, nurture a stronger sense of community, and allow more flexible scheduling.
Student Tested, Teacher Approved
As a fully accredited school, Osprey Wilds offers a wide variety of grade-specific classes, each aligned with Minnesota Academic State Standards. Student evaluations prove they love our food and dorms, the self-challenge and skill-based courses, and the unique opportunity to get up close to our native educational wildlife. Teachers rave about the individualized attention their school receives, the easy-to-navigate campus, and the positive transformation of their students during a visit.
We specialize in 2–5 day residential (overnight) experiences for K12 youth. Our residential programs offer multiple options to make your stay personalized, comfortable, and accommodating to your students and staff.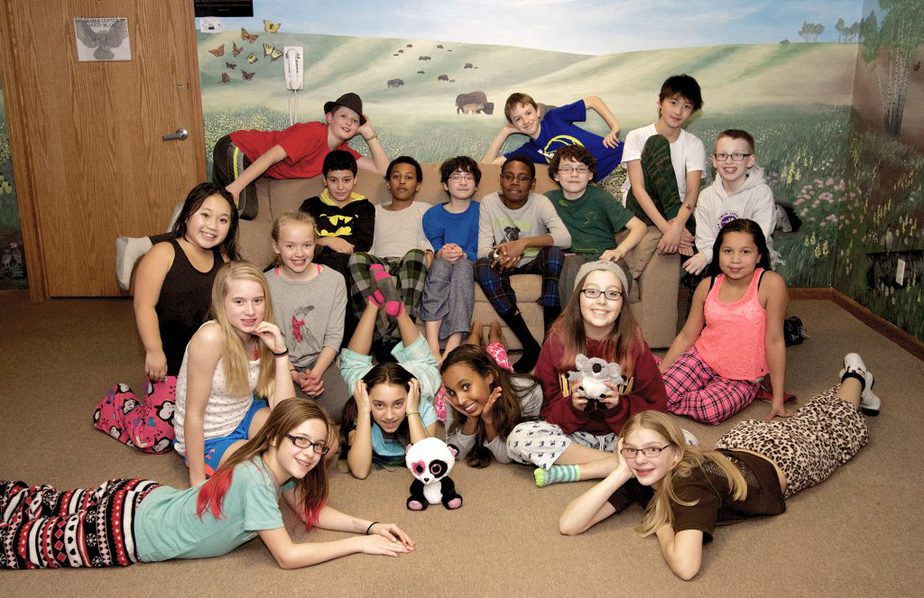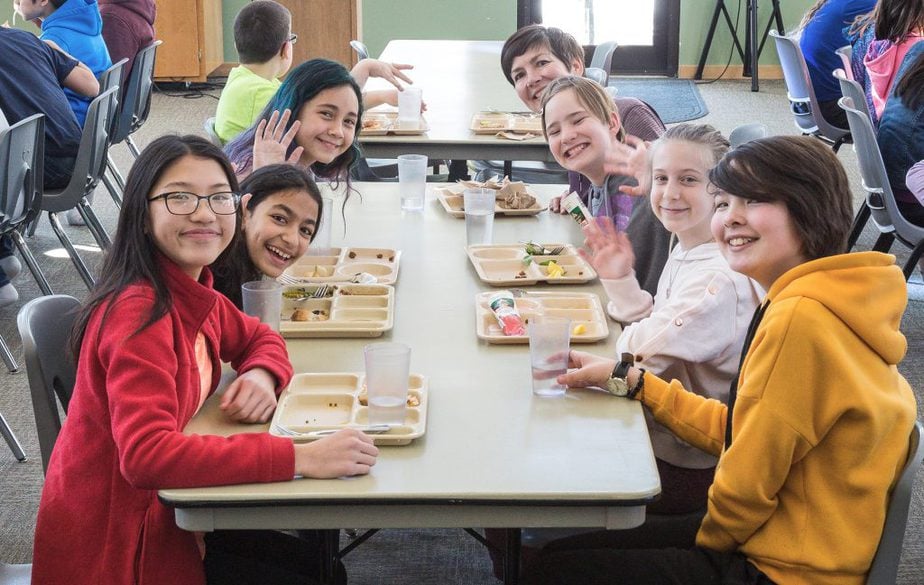 Any size group ◆ any length visit ◆ outreach options
Other Options for K12 Youth
With a one-day school program package you select the classes of your choice all morning and/or afternoon, with lunch in between. Bring your own bag lunch or enjoy a delicious meal prepared by our kitchen staff. Any of our programs and classes are available on an "a la carte" basis.
Submit a booking inquiry form or email us to get started or check available dates.
Homeschool camps are periodically offered to extend our quality formal school programming to the homeschool community. Through class options focused on ecology, wildlife, adventure, or cultural and natural history, your students will discover new ways to connect with the natural world.
Check our Program Calendar for upcoming Homeschool camps or email for more info.
Live animals have the ability to engage an audience and inspire a concern for wildlife and our environment. We offer a variety of wildlife program topics that come to your school or site. Our programs cover a variety of topics and we use a variety of education animals including: salamander, frogs, toad, turtles, snakes, rabbit, raptors, and porcupine.
Ready to book your field trip?
To get a quote for your school's day visit or to check availability, please:
Already have a reservation?
Visit our Planning Your Trip page for details on planning your trip to Osprey Wilds or
Download our K-12 Trip Planner for a complete information about planning a trip to Osprey Wilds, including a listing of class options, pricing, logistics, forms, etc.
Teacher re-certification CEUs are available for attending an Osprey Wilds program. 
Upon request, we can provide you with a certificate of program completion for your stay with us. Approval of CEUs would be determined by your school's administration.