Charter School Division Staff Bios
Director of Charter School Authorizing
Erin has been with Osprey Wilds since 2012, and in her current role since 2019. She was drawn to the work through her passion for environmental education and is personally committed to Osprey Wilds' mission and vision. Erin holds a Master of Arts in Teaching in Museum Education from The George Washington University and a Bachelor of Arts in History from the University of Minnesota, Twin Cities. Her work experience includes exhibition, program, and evaluation work for Osprey Wilds, Smithsonian Institution National Museum of American History, International Spy Museum, Carver County Historical Society, Carver County Parks, The Children's Museum of Indianapolis, and the Mill City Museum. She is a passionate advocate for audience accessibility, environmental stewardship in PreK-12 education, and was named a 2012 Smithsonian EdLab Education Innovator. Erin is originally from South Dakota, where she reigned as the 2004 State Oratory Champion, and enjoys photographing her cats, grilling, fishing, and Mel Brooks.
Associate Director of Charter School Authorizing
mccutcheon@ospreywilds.org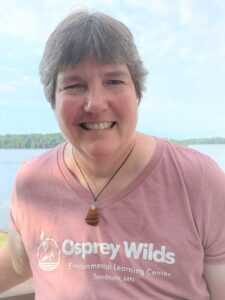 Nalani McCutcheon started with the Charter School Division in 2018. Nalani comes from Cannon River STEM School, an Osprey Wilds' authorized charter school where she was the Founding Executive Director for nine years.  Prior to starting Cannon River STEM School, Nalani served for eight years as the Executive Director for River Bend Nature Center in Faribault, MN. She has a Master's in Environmental Education from the University of Wisconsin – Stevens Point, and prior to leading River Bend Nature Center, she worked for the School Nature Area Project at St. Olaf College, which helped 211 Minnesota schools set up and use nature areas within walking distance of the classroom. Nalani has been involved in environmental stewardship and education throughout Minnesota by serving in the past on the Citizens Advisory Committee for the Environment and Natural Resources Trust Fund, the boards of Eco Education, the Minnesota Association for Environmental Education, the Cannon River Watershed Partnership, and the Faribault Rotary Club. Currently, Nalani contributes to her local community by serving on the Faribault Foundation Board as well as the Faribault Youth Investment Board.  Nalani grew up in floodplain forest and prairie on the banks of the Platte River south of Omaha, NE. Nalani is thankful now to live with her wife on the shores of Circle Lake, near Faribault. Working for Osprey Wilds in the Charter School Division allows Nalani to pursue her passion for providing all children with quality educational options that use the environment as an integrating context for learning.
Authorizing Specialist, Academics
edstrommoore@ospreywilds.org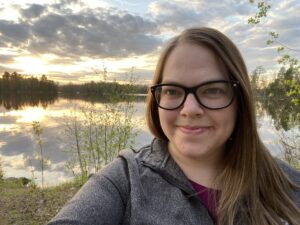 Emily Edstrom Moore started as an Authorizing Specialist with Osprey Wilds in 2021 after six years of previous authorizing experience. Over those years she managed evaluation processes, acted as a school liaison, executed governance reviews, advanced policy and advocacy work, and monitored compliance in a variety of roles. Prior to entering the world of authorizing, Emily worked at a charter school, various non-profits, a law firm, the Minnesota House of Representatives, and many youth programs. She has a Masters of Public Policy in Education Policy from the Humphrey School of Public Affairs and a BA in History from Beloit College. While not working, she enjoys playing games with stepkid Kendra and daughter Ella, trying new food and beer with better half Nate, and getting creative with baking or the occasional craft. Her 'home' camp where she worked as a counselor and fell in love with the outdoors is in Wisconsin, but she is willing to give this RELC thing a try. At heart, Emily is a big nerd who is excited about the opportunity authorizing provides to serve every kid better and make a transformed, more just education system a reality.
washington@ospreywilds.org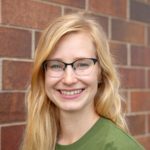 Addie Washington began serving with Osprey Wilds through the MN GreenCorps-– a professional development program in which Americorps members serve in the fields of environmental science and sustainability. At the conclusion of her service term, she joined the team officially to lead in administrative tasks and support schools through oversight of their environmental education programs. Addie worked most recently as a Teacher's Associate and Communications Coordinator at the Academy of Whole Learning, a private, non-profit school for students with autism and individual learning needs, where she discovered a passion for working with students.  She holds a Bachelor's degree in both Sociology and Comparative Literature from Beloit College, and is grateful that in her role at Osprey Wilds she can employ both a structural lens to the ecosystem of education in Minnesota–as well as center values of environmental interdependence and stewardship. Most of all, Addie is excited to engage with the many innovative ways Osprey Wilds authorized schools implement environmental education.  When she's not at her desk or learning from her colleagues, Addie can most likely be found walking her rambunctious pup or playing a board game with friends. 
Jolene joined the Charter School Division in a part-time role in 2018 and has worked at Osprey Wilds in Sandstone as Finance Manager since 2015. Jolene grew up in the berry fields and orchards of Bayfield, WI and on the Apostle Islands in Lake Superior where her grandparents were fishermen and farmers. At the age of five she was given her first camera and has been photographing nature and people ever since. Jolene eventually moved to Superior, WI and earned degrees in Accounting and Computers. Life always seems to have a way of leading her to work with nonprofits with strong missions focused on helping people, children, or the environment, typically in roles related to finance and accounting. Ultimately she ended up in Sandstone on a beautiful 160-acre hobby farm in the "middle of nowhere" with her husband. In her free time Jolene loves to bake, four-wheel, garden, and be a photographer.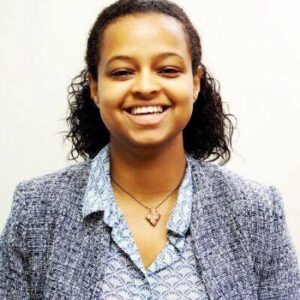 Alul Yesak joined the Charter School Division in a part-time role in 2021 and has come from the Minnesota Association of Charter School Authorizers. Alul is currently a Ph.D. candidate at the University of Minnesota in Education Policy and Leadership and believes that education is freedom work. Alul was born in Ethiopia and grew up in the United States. Alul lives in the Twin Cities with her husband and her daughter and her cat. In her free time, Alul loves to cook, bake, and camp, but because of graduate school, free time has become elusive. Once she graduates, she looks forward to having her free time back.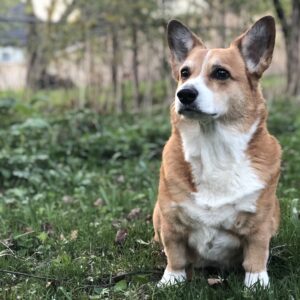 Foster first joined us as a short-term employee in 2017 and returned full-time in 2018. Foster is originally from Rice and moved to Minneapolis in 2016, hoping to enjoy his retirement as a city dog. Foster's role includes security, janitorial services, and emotional support, and although he spends most of his time on the clock snoozing, he's always at the ready to perform his duties. His past experience as a wannabe cow dog (not an actual cow dog) prepared him well to wrangle stray schools and keep them on the right path. In his free time, he enjoys pets, snacks, chasing squirrels, and dreaming of catching squirrels.