Charter School Division Staff Bios
Director of Charter School Authorizing
Erin is the Director of Charter School Authorizing for Osprey Wilds Environmental Learning Center and has been with the organization since 2012. Erin holds a Master of Arts in Teaching in Museum Education from The George Washington University and a Bachelor of Arts in History from the University of Minnesota, Twin Cities. Erin grew up on a farm and ranch in South Dakota (the ancestral, traditional, and contemporary lands of the Oceti Sakowin, meaning Seven Council Fires, which is the proper name for the people referred to as Sioux), where her commitments to equity and the environment were born and continue to propel her volunteer and professional work today. She was named a 2021 NACSA Leader and a 2012 Smithsonian EdLab Education Innovator. She lives in Minneapolis with her partner, Brady, along with a revolving door of foster dogs.
Charter School Leadership Fellow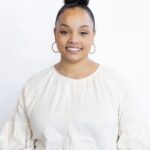 Ashley Estis is new to Osprey Wilds Charter School Division. Ashley has worked in education for over 10 years. She has a Bachelors in urban elementary education through Metropolitan State University. She has experience teaching middle school and high school students with emotional and behavioral disorders and autism spectrum disorder. Ashley also has experience teaching pre-K, 2nd and 4th grade. Ashley is passionate about the culturally responsive education and environmental justice and education for our youth. Ashley grew up in  twin cities and comes from a large family of eight brothers and sisters. Ashley currently lives in the twin cities with her son and daughter. In her free time she enjoys reading, spending time outdoors with her children, and listening to music. Ashley is very excited to be a part of this charter school division team.
Authorizing Specialist, School Sustainability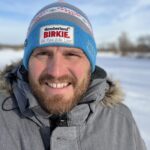 Pat Hartman is new to Osprey Wilds in 2023. He comes from over 15 years of experience in education, primarily as a high school biology teacher. In addition, he has built and implemented an elementary STEM program, worked as a middle school math paraprofessional, coached soccer and Nordic skiing, served as a union representative and vice-president and science department head. Pat grew up just outside of the Twin Cities and earned a degree in German from St. John's University. After graduation he dabbled in the workforce, mostly as a coffee shop manager, but the world of education was calling and Pat earned an MAT degree from Hamline University. He is passionate about education, specifically environmental literacy.  Pat is obsessed with nature and when he is not working, you may find him running, skiing, canoeing, hiking or camping.
Authorizing Specialist, Academics
edstrommoore@ospreywilds.org
  Emily Edstrom Moore started as an Authorizing Specialist with Osprey Wilds in 2021 after six years of previous authorizing experience. Over those years she managed evaluation processes, acted as a school liaison, executed governance reviews, advanced policy and advocacy work, and monitored compliance in a variety of roles. Prior to entering the world of authorizing, Emily worked at a charter school, various non-profits, a law firm, the Minnesota House of Representatives, and many youth programs. She has a Masters of Public Policy in Education Policy from the Humphrey School of Public Affairs and a BA in History from Beloit College. While not working, she enjoys playing games with stepkid Kendra and daughter Ella, trying new food and beer with better half Nate, and getting creative with baking or the occasional craft. Her 'home' camp where she worked as a counselor and fell in love with the outdoors is in Wisconsin, but she is willing to give this RELC thing a try. At heart, Emily is a big nerd who is excited about the opportunity authorizing provides to serve every kid better and make a transformed, more just education system a reality.
Jolene joined the Charter School Division in a part-time role in 2018 and has worked at Osprey Wilds in Sandstone as Finance Manager since 2015. Jolene grew up in the berry fields and orchards of Bayfield, WI and on the Apostle Islands in Lake Superior where her grandparents were fishermen and farmers. At the age of five she was given her first camera and has been photographing nature and people ever since. Jolene eventually moved to Superior, WI and earned degrees in Accounting and Computers. Life always seems to have a way of leading her to work with nonprofits with strong missions focused on helping people, children, or the environment, typically in roles related to finance and accounting. Ultimately she ended up in Sandstone on a beautiful 160-acre hobby farm in the "middle of nowhere" with her husband. In her free time Jolene loves to bake, four-wheel, garden, and be a photographer.
washington@ospreywilds.org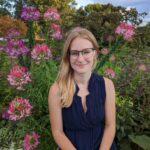 Addie Washington began serving with Osprey Wilds through the MN GreenCorps. At the conclusion of her service term, she joined the team as the Administrative Assistant and an Environmental Education Evaluator. Addie worked previously as a Teacher's Associate and Communications Coordinator at the Academy of Whole Learning. She holds a Bachelor's degree in both Sociology and Comparative Literature from Beloit College, and is grateful that in her role at Osprey Wilds she can center values of environmental interdependence and stewardship. Most of all, Addie is excited to engage with the many innovative ways Osprey Wilds authorized schools foster students' connection with and care for nature through environmental education. When she's not at her desk or learning from her colleagues, Addie can most likely be found walking her rambunctious pup or playing a board game with friends.